About Us
Our Brand
The 3rd Wave in the Consulting Industry
The first wave of management consulting came about in the 1950s with the advent of strategy consulting. Next, the second wave arrived in the 1990s as system integrators and accounting firms expanded their consulting businesses to meet the growth in demand from the information technology industry. Now the third wave, strategy execution consulting, is upon us as companies work to address project-wide issues affecting all organizational levels.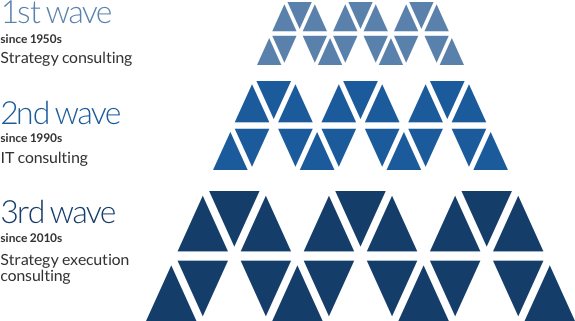 Mission
Our Mission: Contribute to society's happiness
through management
Intelligence for Management
Management is such an important topic that people have bought more than one million copies of Peter Drucker's famous book by the same title. In Japanese society, "management" is understood essentially to mean leading people and organizations to their highest level of performance in order to create a happy result. However, because conventional management techniques are no longer suited to our rapidly changing society, it's important to focus on results-oriented management. Even in our personal lives, management is an essential skill and there is a great demand for applied training in this area. The entire Management Solutions organization seeks to create a variety of management models, all contributing to the realization of a happy society.
Vision
Vision: To become a management platform for society
that promotes organizational change and personal growth.
Management Solutions' is dedicated to providing concrete solutions for business organizations and individuals as the leading management platform in Japan and throughout the world. Consider project management: We provide a solution that not only raises the project management maturity level of our client organizations, but is also aimed at adding tools to individual project team members' skill sets. Globally, we will continue to deploy career management solutions, online training courses, and a new knowledge and talent management software platform called ProEver as we dedicate ourselves to building a true management platform.